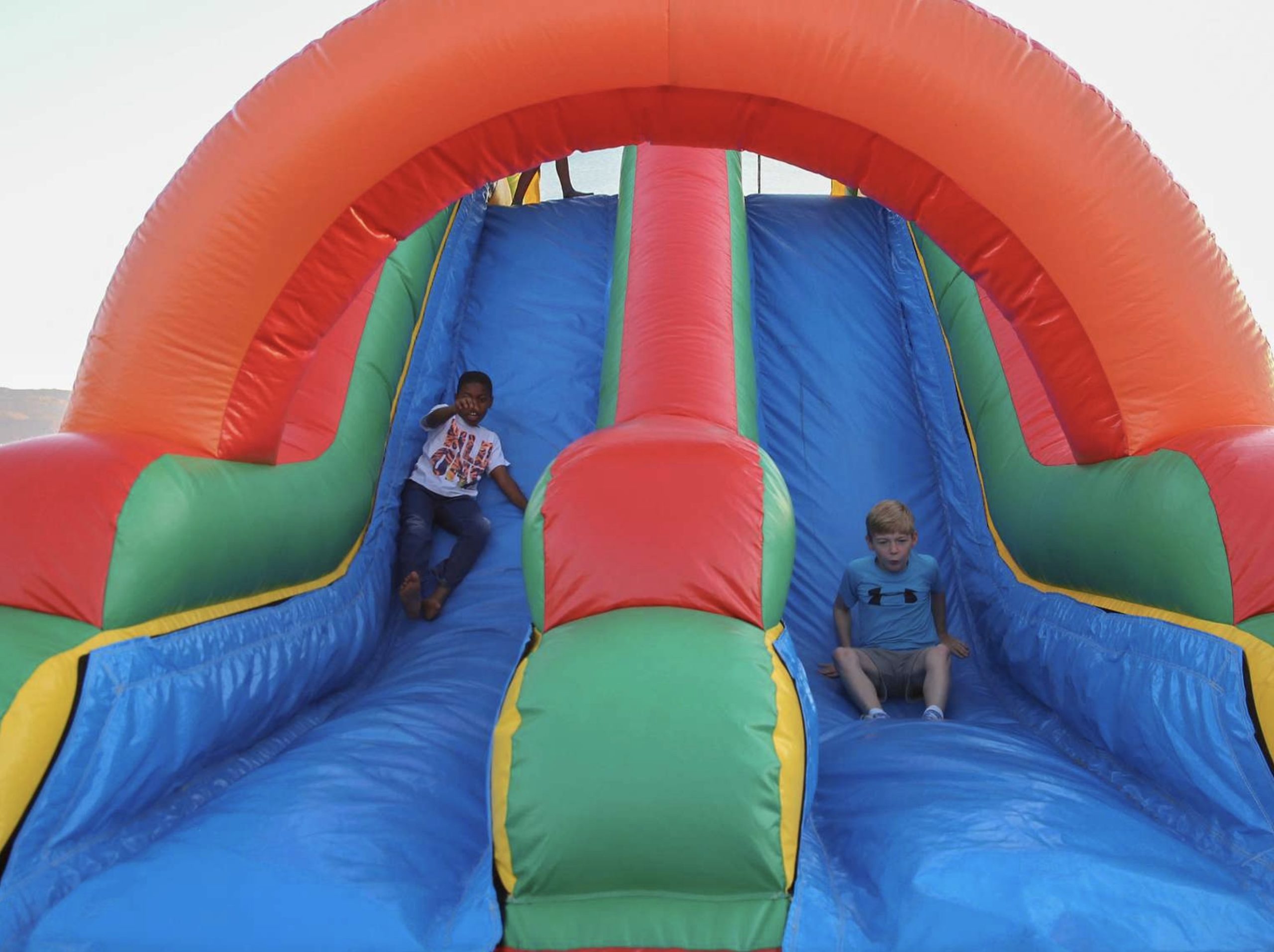 Create an unforgettable experience for your special occasion with Lakewood Bounce House Rental, whether it's a family reunion or a birthday party. We offer a wide variety of inflatable bounce houses that will leave a lasting impression on your guests. Our services cater to a range of events, such as weddings, church events, and barbecues. Choose from our diverse collection of bouncy houses, which includes classic castle-style bounce houses, themed slides, carnival games, obstacle courses, and more.
Booking your bounce house rental with us is hassle-free! Just contact us, and we'll take care of everything to make your event a success. We provide personalized packages to help you create a unique mix of rentals that meet your specific needs, with an extensive selection available. Don't wait any longer! Contact us now at (720) 707-2161 to begin planning a memorable event.
Lakewood Bounce House Rental prides itself on having a team of professionals who are dedicated to delivering all products promptly and in pristine condition. We place a high value on exceptional customer service and treat each client with respect and appreciation throughout the entire event planning process.
Our team is committed to ensuring the success of your event, regardless of its size, and we demonstrate this by providing you with the necessary tools and services to make it a success. Our ultimate objective is not just to meet, but to exceed your expectations.
Parties, Events, And Happenings
Look no further than Lakewood Bounce House Rental if you're looking to add excitement to your event! Our selection of bounce houses and castles in various sizes and styles can be customized to match your event's theme or colors. Our inflatable tube men are a crowd-pleaser for all ages, while our concession machines offer tasty treats like popcorn, cotton candy, snow cones, and hot dogs, adding flavor to your event. With us, you are guaranteed an unforgettable time.
To ensure your guests' comfort, we provide tables and chairs, and our obstacle courses offer thrilling fun for all ages, without adding any stress to you. Our team of professionals will promptly set up and take down everything, ensuring that it's in perfect condition and ready for use as soon as possible. At Lakewood Bounce House Rental, we are committed to making your event a success by providing everything you need for a fun and memorable occasion.
At Lakewood Bounce House Rental, we prioritize your safety and satisfaction above all else. We recognize the significance of maintaining a clean and sanitary environment, and that's why we routinely clean and disinfect all of our equipment. Our customer service team is available to address any inquiries or issues you may have.
We take pride in offering outstanding services and are dedicated to making your event a triumph. So, don't hesitate any longer; book with us today, and allow us to handle everything, ensuring that you have a hassle-free and remarkable experience.
Slides, Obstacle Courses, Concessions, And More
Looking to add an exhilarating slide to your event that will impress your guests? Look no further than Lakewood Bounce House Rental! Our wide selection of slides is available in various sizes, ranging from a towering 30-foot slide to a more modest 15-foot option. We offer slides in a variety of colors and themes, including dry and wet options, allowing you to customize your slide to fit your event's unique theme.
At Lakewood Bounce House Rental, we strive to help you create an unforgettable and exceptional event. With our extensive range of inflatable slides, bounce houses, obstacle courses, carnival games, and more, we are committed to providing everything you need to ensure your event's success. Let us help bring your vision to life.
Feel free to contact us today to select the ideal slide and create an unforgettable event. Our skilled team will handle everything, from installation to dismantling the equipment, allowing you to unwind and relish the occasion with your attendees.
Things Are Going Great…And They're Only Getting Better 
Our team at Lakewood Bounce House Rental understands the importance of personalization for your event. That's why we offer tailor-made packages, including decorations, tables, chairs, food, drinks, tents, and canopies, to meet your unique requirements and preferences. Our aim is to create an unforgettable experience for your guests and make your event stand out.
We take pride in providing exceptional customer service, delivering high-quality products, and ensuring prompt delivery. We understand that event planning can be stressful, which is why we take care of every detail, from the setup to the disassembly of all equipment. We're always available to answer your questions and provide advice, and our team of professionals is committed to ensuring the success of your special occasion.
With Lakewood Bounce House Rental, you can sit back and relax, confident that everything is taken care of.
Create an unforgettable celebration with Lakewood Bounce House Rental's exceptional products and services. Our dedicated team of professionals strives to provide outstanding service, ensuring complete satisfaction for every customer. We offer a wide range of unique products and custom packages designed to suit your specific requirements. Allow us to assist you in creating an unforgettable and memorable event.
Lakewood Bounce House Rental: (720) 707-2161.