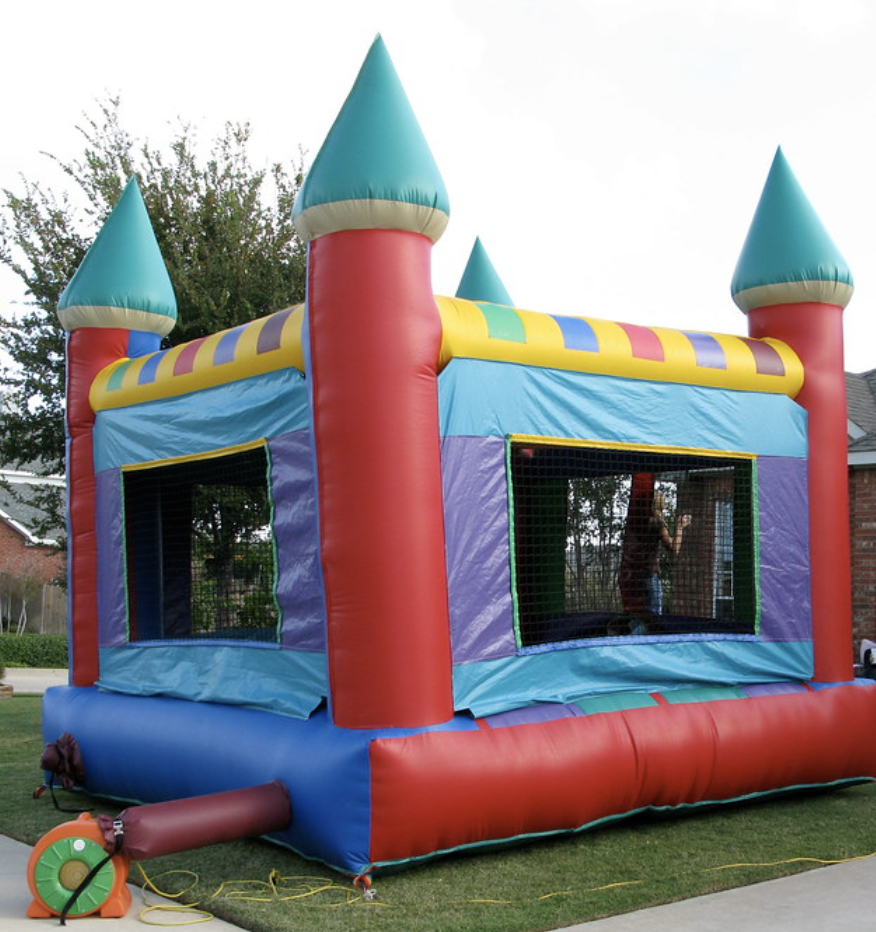 Lakewood Bounce House Rental is proud to be the foremost provider of inflatable entertainment for local events. While our broad array of bounce house rentals is impressive, we offer much more than mere delivery. Our professionals take charge of everything from set up to upkeep, guaranteeing that your children have a secure and thrilling experience.
We recognize the significance of safety and maintenance, and therefore, we ensure that our bounce houses are consistently in perfect condition, devoid of any signs of wear and tear. Your children merit only the best when it comes to entertainment, and we are dedicated to delivering rentals of exceptional quality.
Lakewood Bounce House Rental is committed to providing a wide variety of inflatable rentals that cater to all preferences, from classic bounce houses to exciting obstacle courses. Our customization options allow you to match the colors and patterns of your event's theme, making it a truly unique and personalized experience. Our competent team is always available to ensure a stress-free experience by managing everything from setup to take-down. With us, you can sit back, relax, and enjoy your event without any worries, knowing that our experts are taking care of everything. Call us today at (720) 707-2161.
Our Mission
Our mission is all about ensuring that your event is a complete success by prioritizing your satisfaction, especially when it comes to keeping the attending children entertained. We understand that children can be a challenging audience, and we measure our success by their happiness. That's why we carefully inspect and maintain each rental item, including bounce houses, concession machines, and carnival games, before delivering and setting them up at your event.
Our commitment to providing exceptional customer service and high-quality rentals from start to finish is unwavering. Contact us today to reserve the inflatable rental of your choice, and we guarantee that you and your guests will have an unforgettable experience that you will cherish for years to come.
Our Vision
Our vision at Lakewood Bounce House Rental is to provide safe and enjoyable experiences that create lasting happiness. We aspire to become a trustworthy and dependable source of entertainment that delivers unforgettable memories for our clients.
Our commitment to delivering exceptional customer service, affordable pricing, and high-quality inflatable rentals ensures that every child leaves with a smile on their face. Our passion for what we do drives us to create lasting memories that our customers will treasure for years to come. Let us work together to create more delightful memories with Lakewood Bounce House Rental.
Colors, Themes, And Happy Times
If you're looking to liven up your party, Lakewood Bounce House Rental has the perfect solution with our wide selection of concession machines. Take your pick from popcorn, cotton candy, snow cone, and hot dog makers that come with all the necessary supplies and ingredients. Our concession machines are user-friendly, and our expert team will provide safety instructions to ensure that your guests are safe. It is recommended that an adult supervise the operation of any machinery.
Our concession machines are perfect for any occasion, from birthdays to corporate events. Simply provide us with your event details, and we'll help you choose the ideal machine to create an unforgettable experience.
If you want to elevate the fun and excitement at your upcoming event, Lakewood Bounce House Rental offers an amazing selection of carnival games. Our variety of games ranges from classic Ring Toss and Pitch-Til-You-Win to thrilling options like The Dunk Tank and Three-Point Line, ensuring that every guest will find something entertaining to play. We have games available in different sizes and types, perfect for any occasion.
We take safety seriously, which is why we provide detailed instructions on how to use the games safely and correctly. Our experienced staff will also be present during setup to ensure everything is properly installed and to answer any questions you may have. Don't miss out on this chance to add some extraordinary fun to your event. Contact us today to reserve your carnival games.
Most Inflatables Are Up In 10 Minutes
We have an extensive selection of rental options that are sure to bring joy to children's faces, such as bounce houses, castles, mazes, and themed merchandise. If you have a specific theme in mind for your event, we can customize the rental to match it. Additionally, we have various package options that can incorporate one or more items based on your preferences.
Our team is friendly and available to answer any questions you may have about our services and help you select the perfect package for your occasion. All of our products are regularly maintained and comply with safety standards to ensure the safety of your guests throughout the event. At Lakewood Bounce House Rental, we are dedicated to providing a secure, enjoyable, and exciting experience for your event.
Lakewood Bounce House Rental: (720) 707-2161.